Submit day-off and work requests at Amion.
1. Retrieve and set your personal password
A personal password is required to access your work-preference calendar at Amion. Sign into your group's schedule at Amion.com. If your schedule is part of an Enterprise display, click on the department name to go to the full monthly schedule.
On the main toolbar, click the
my-schedule icon. Choose your name from the dropdown selectors and click the Work Preferences or Special requests button.
Click Email a login link to yourself. Check your email. It will provide your temporary password and a link directly to your work-preference calendar. Click on the link.
At the bottom of your work-preference calendar, change your temporary password to a new permanent one. Click Set password when done.
2. Submit requests
Login to your group's schedule at Amion and click on the My Requests icon
for attending schedules or the Special Request icon
for resident schedules. Enter your personal password and login.
From the first pull-down menu, select either "days" or "shifts" that you would like to request. Check the boxes in the calendar for the days/shifts you are requesting to work or not work.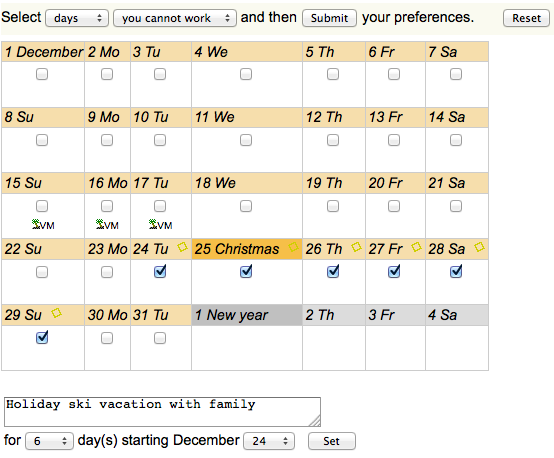 You can add notes to the calendar to explain your requests. Below the calendar, select the number of days the first date to which the note applies. Enter the note and click Set. You should see red sticky notes in the calendar. You might annotate your requests with "conference", "sister's wedding" or "I can only work Tuesdays in November".
To remove a note, submit a blank note for all the days you wish to clear.
When your dates and notes are set, click the Submit button above the calendar.
Use the blue arrows to move forward to another month to submit more requests. Moving to another month submits requests for the month on screen but does not give you a summary confirmation screen as you will get upon clicking Submit. If you do hit Submit, the confirmation summarizes just the last month you had on screen.
You can go back into the request calendars at any time to review and update your availability.
Requests remain queued up at Amion until the person in charge of the schedule transfers them to the OnCall scheduler. Once your administrator begins working on a schedule, you can continue to modify requests but late submissions might remain at Amion and not be factored into the final set of assignments.